Hi Dappros followers,
I hope you and your loved ones are doing well. The geopolitical situation is not getting better and we keep hoping and working towards a brighter peaceful future.
On a positive note, I wanted to share with you a couple of important concepts we have worked on lately, which are now implemented and I believe are important to comprehend and leverage for everybody who works in the areas of Digital Art, Digital Assets, Creators, NFT and Social.
NFMT – advanced NFT token contract for Creators
Our team has created a new token format – NFMT is a modification of the NFT format based on ERC-1155, which makes it easier for artists, musicians and celebrities to release their collections with the following features:
several "pricing" tiers for the collection, for example, you can release an art object with 500 "bronze" copies that everyone can mint for free, 50 "silver" ones at an average price and 5 "gold" ones at a high price. This simplifies the release of new collections "on a template" and attracts additional marketing through the owners.
specifying several beneficiaries (with proportions in %) for the NFT collection revenue distribution – for example, if an artist wants to indicate that 50% goes to charity, 25% to themselves and 25% to the agent, this can be done by simply changing the parameters in the smart contract template, or by answering chat bot questions.
(optionally) the possibility of individual governance – for example, if the token reflects an art object (picture, piece of music, video clip) – can be included in its mini-DAO, which allows holders of the governance token to make decisions or participate in the distribution of profits for a particular work.
We first created this format for charity purposes in order to make it easier for Ukrainian artists to raise money globally through NFT, but then we showed it to some clients who work with creators and they loved it, because our NFMT smart contract template turned out to be quite convenient and simplifies entrance to the NFT for creators.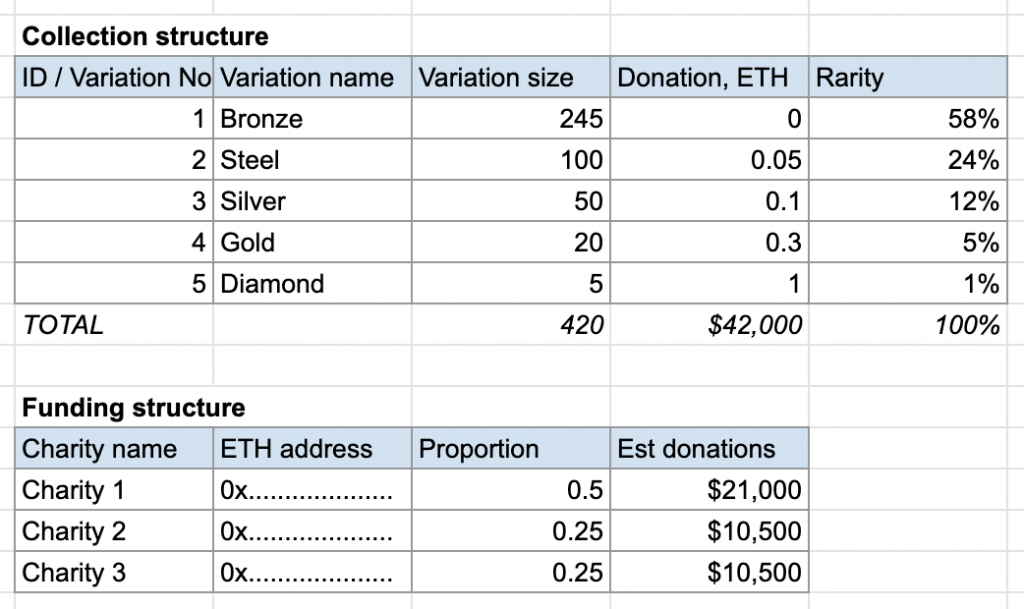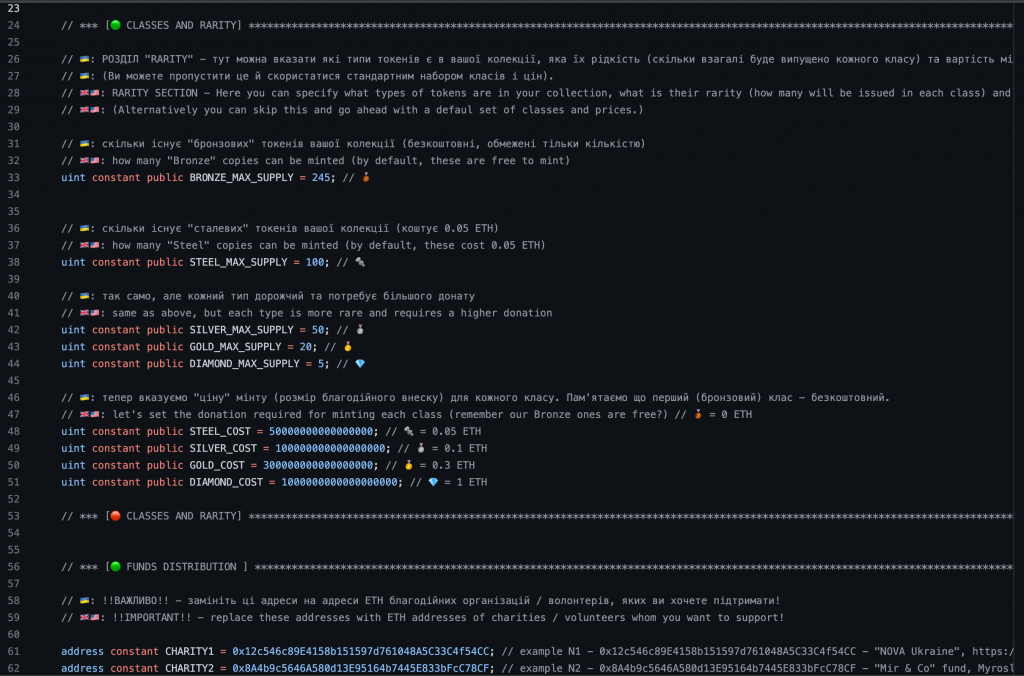 The second update – we created a chat bot system that allows you to create NFT tokens from your art (images, videos, music, video clips) directly in the chat, simply by answering the bot's questions, and then leave them in the chat room or your profile, from where other users can buy or mint them for free.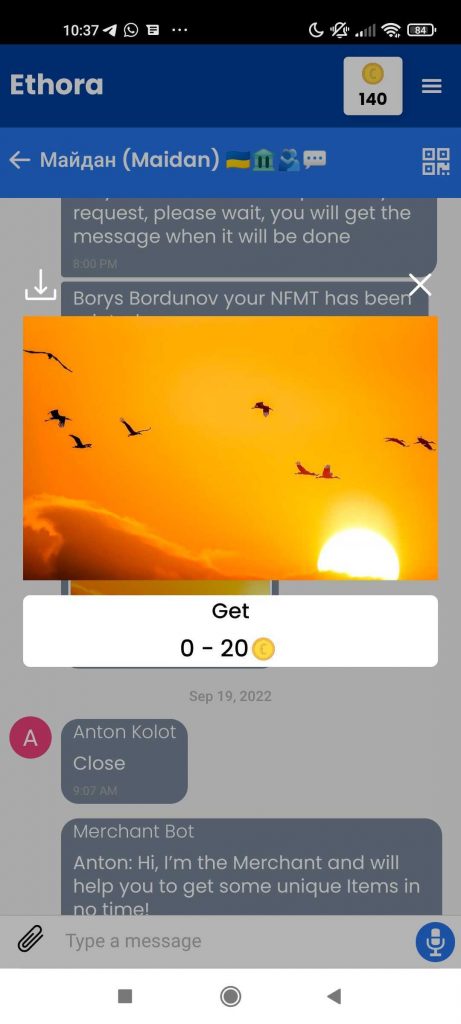 These 2 updates above are especially important because combined, they enable great mechanics that DRASTICALLY REDUCE THE ENTRY BARRIER FOR CREATORS INTO THE NFT DIGITAL ART SPACE.
We have already implemented these updates into our Ethora Web3 Social Low-code / No-code Engine starting from version 22.09 being released now, all Developers, Businesses, Creators and Communities that use Ethora engine, will be able to create NFTs and trade them with a snap of their fingers.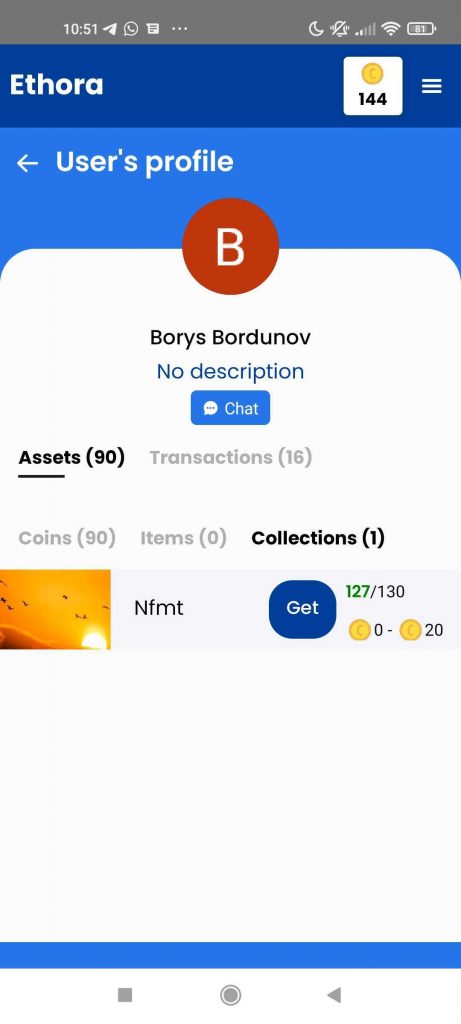 We would like now to invite and support experimental projects with artists/creators who are seeking exposure into NFT space . We have created a small fund to support such projects and artists who have next to none experience with NFT and would like to get some support from us with creating and exposing their first collection, from the first steps of using Ethora platform right to Mainnet export and exposure via OpenSea marketplace.
On the basis of our already existing engine and the already developed link:
social login -> chat -> chat bots -> NFT art,
you can create such projects or virtual 'conversational metaverse' exhibitions, where the space will not be a static flat site-marketplace a la web2.0, but also not a heavy and slow 3D engine a la Spatial, which takes time to load and offers no integration with a crypto wallet. Instead, we offer a medium of a chat-based metaverse, where in a group chat you can create and present an NFT collection, other users can buy/mint, and explore what items and collections others have in their profiles.