Blockchain development companies consider the state of Georgia, USA as the next hub for the booming business of distributed ledger or DLT. Seaports like Savannah and Brunswick in Georgia are important parts of the global supply chain. Speaking of power, Georgia's electrical supply grid consists of nuclear, coal, and gas-powered power plants. Therefore, the region's highly developed infrastructure favors versatile application scope for blockchain.
Moreover, the southeastern state of the USA, Georgia, is a hotspot for advanced technology implementation, as the fintech industry. Fintech means a high level of security and transparency. Therefore, blockchain technology has a significant growth opportunity alongside the fintech sector of Georgia.
Principal Georgia Cities for Blockchain Development Companies
Though the growth of blockchain development companies in Georgia is state-wise, however, you'll find more opportunities centered around these cities or city-county territories:
1. Athens
Athens–Clarke County, or simply Athens, is a consolidated city-county as it forms a common jurisdiction for Athens and Clarke county. Athens is also known as a college town as the majority of the population are college or university goers. The city-county has a population of 127,064 as per the 2019 census from the U.S. Census Bureau. Athens city, the sixth-largest of Georgia, has a population of 209,271 as per the 2017 census from the U.S. Census Bureau.
This part of Georgia state has a humid subtropical climate. Such good weather condition favors economic growth. The Athens city is the hub for technology companies like Roundsphere, Cogent Education, Peachtree Medical Billing, Digital Insight, Partner Software, and Docebo. The city has an elaborate infrastructure of roads, public transport, airport, colleges, and universities.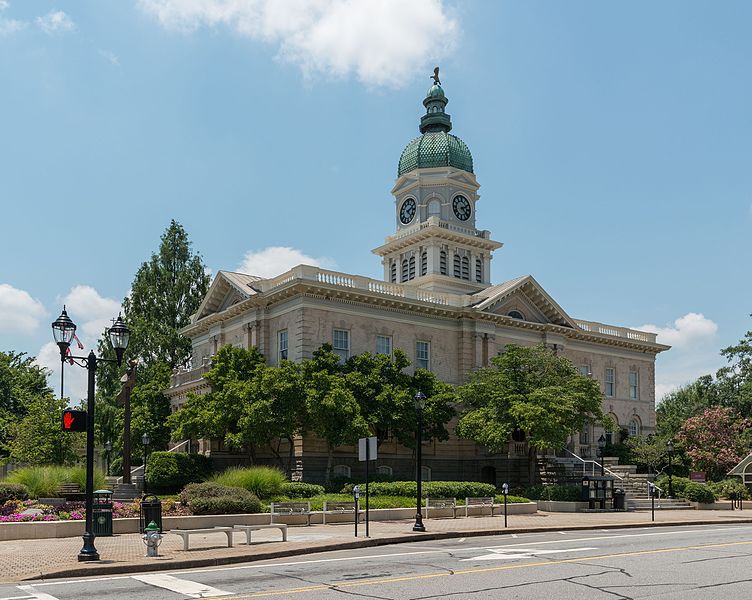 2. Atlanta
USA state Georgia's capital city is Atlanta. It is also the most crowded city in this state. As per the 2019 census of the U.S. Census Bureau, the current population is 506,811. The city has a reputation for its well-built railway network. World's busiest airport since 1998, the Hartsfield–Jackson Atlanta International Airport is the major airport of this region.
A humid subtropical climate is the major weather quality of Atlanta. Its good weather and greenery supported a robust growth of the economy. Atlanta's economy falls within the top 20 largest economies of the world and the top 10 in the USA. Major brands that you could see here are Delta Air Lines, Home Depot, Coca-Cola, Chick-fil-A, AT&T Mobility, and UPS. IT and the entertainment industry are also important contributors. Blockchain technology development is the perfect investment to cater to modern technology requirements for this big economy.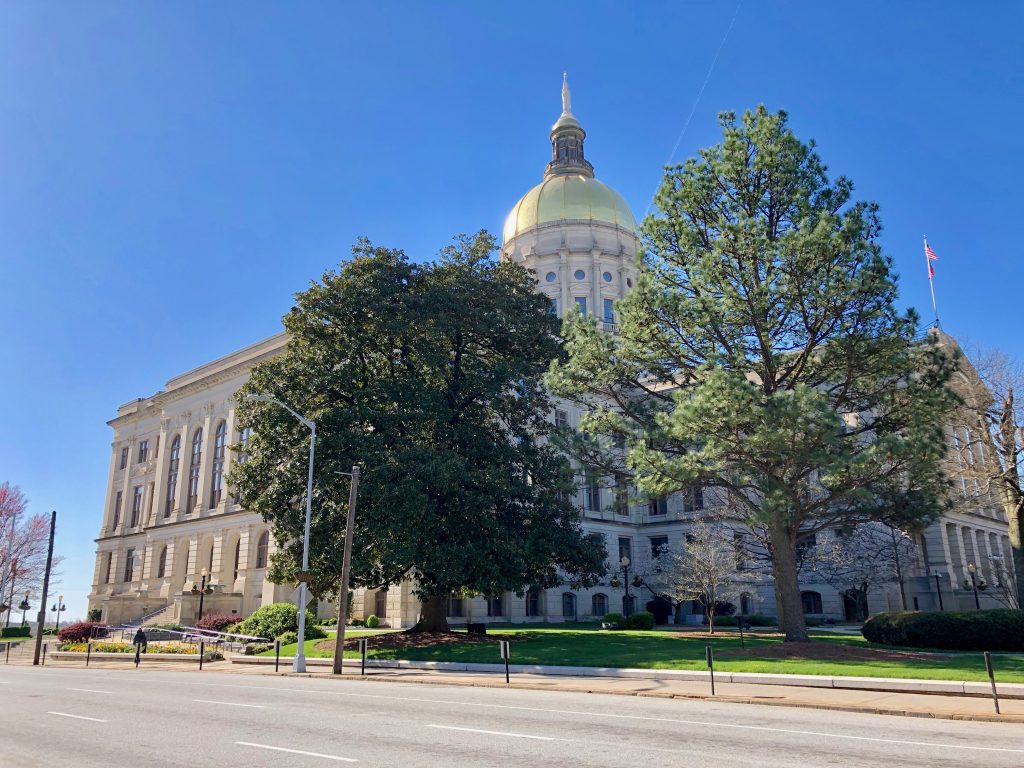 3. Augusta
Augusta–Richmond County is officially known as Augusta. It is also a consolidated city-county like Athens. The region is situated on the central-eastern border of the state of Georgia, USA. This city-county had an estimated population of 197,888 as per 2019 U.S. Census Bureau data. The humid subtropical climate is characteristic of the Augusta region.
Its economy consists of medical research, cybersecurity, and biotechnology. All of these sectors offer better opportunities for blockchain-based systems development. Augusta University, the U.S. Army Cyber Center of Excellence, and the Savannah River Site are the top employers in the region. Private organizations like T-Mobile, Solo Cup Company, Olin Corporation, Taxslayer, Kimberly Clark Corporation, etc., have important business hubs here in Augusta.
4. Columbus
Columbus is another consolidated city-county of the state of Georgia, USA. Muscogee County and Columbus are the merged regions. The 2019 census says that there are 195,769 residents in the Columbus consolidated city-county region. Columbus has many tourist sites and museums. Columbus mostly shows a humid subtropical climate.
TSYS, Aflac, W. C. Bradley Co, Synovus, and Realtree are the major companies that have headquarters in Columbus. United States Army's Maneuver Center of Excellence Fort Benning is the major employer in the region.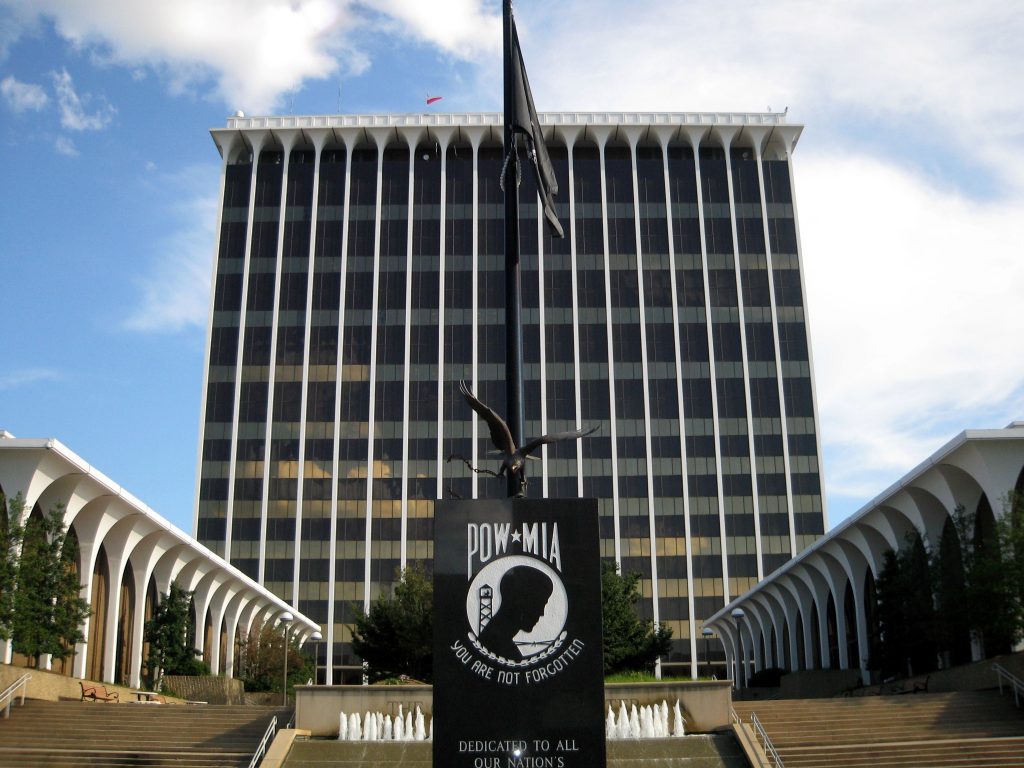 5. Macon
Macon-Bibb County, or simply Macon, is a consolidated city-county of the state of Georgia, USA. Macon city is known as "The Heart of Georgia" since it is situated at the geographic center of the U.S. state of Georgia. The population of the region is 153,159 as per the recent census of 2019. The humid subtropical climate is characteristic of the Macon region.
The retail industry and military installations are the primary economic driver of the region. Herbert Smart Downtown Airport and Middle Georgia Regional Airport are the main air transport hubs for the region. Macon consolidated city-county also has the elaborate infrastructure of the railroad, surface transport, educational institutes, and hospitals.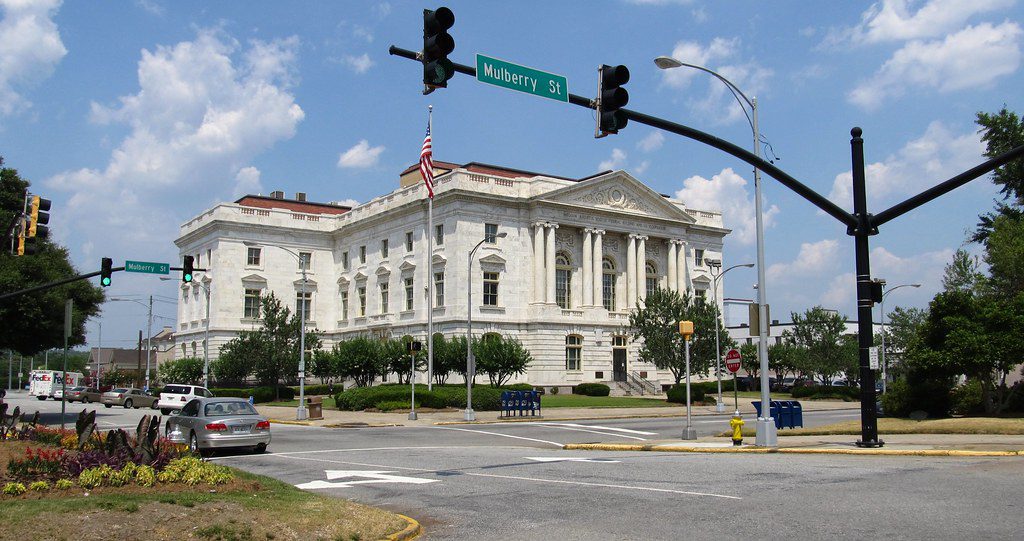 6. Savannah
Savannah is an important seaport and industrial center. The metropolitan area of Savannah had a population of 393,353 according to the 2019 census report. The city lies about 32 km upstream of the Atlantic Ocean. The region is located near the banks of the Savannah River. The weather is subsequently of humid subtropical category.
Savannah's economy consists of The Port of Savannah, the U.S. military, manufacturing, tourism, and the Savannah River Site nuclear plant. Other key economic establishments are International Paper, Gulfstream Aerospace, TitleMax, and JCB. Savannah-Hilton Head International Airport caters to air transport in this region. From the economic viewpoint, this region could be highly potential for blockchain-based systems of logistics and fintech.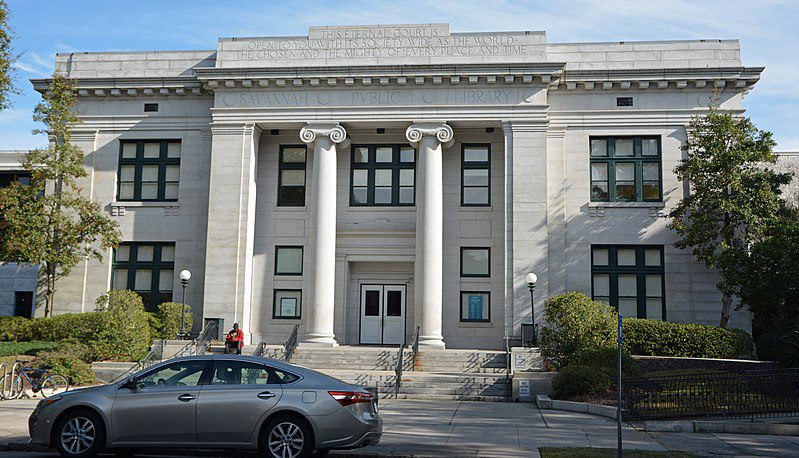 Blockchain Development Companies in Georgia
Knowing the blockchain development companies and their projects will help you to grow your business in this sector or build your blockchain products.
1. Blockchain Companies in Athens
A. Bitcoin Depot: The company is known as the second-largest Bitcoin ATM service provider in the USA. They have multiple Bitcoin ATM services in Athens, Georgia. Apart from Bitcoin, the company also provides ATM services for cryptocurrencies like Litecoin, Ethereum, and Bitcoin Cash.
B. Authio: The company is an expert in blockchain-based security systems. They assist independent developers in scrutinizing their DApps code against security issues. Authio also takes care of smart contracts auditing. The company specializes in security concepts for ERC-20 Tokens, Ethereum, Cryptocurrency, etc.
C. AphidByte: It is a blockchain technology-based online marketplace for creatives. The platform also serves as an online workspace for creative individuals. Creative developers and content creators can collaborate, upload files, exchange files, or sell content through this platform.
D. BlockInterop: The company is setting a blockchain-based healthcare technology example. They are using the decentralized solution for efficient delivery of healthcare services to the communities or individuals.
2. Blockchain Companies in Atlanta
A. BitPay: The company offers blockchain-based services and systems for sectors like retail, billing, invoicing, eCommerce, donation, and fintech. Bitpay is also working on a project to support payments, wallet services, and credit cards through Bitcoin.
B. Monetizr: The company developed its own gaming currency for universal transactions, called MTZ Tokens. Monetizr uses this token to reward the players. Its primary blockchain product is a game reward system.
C. Patientory: It is a blockchain-based mobile app that acts as a platform to connect patients, doctors, caregivers, and medicine suppliers. The app effortlessly addresses the security concern related to the patient's medical records using blockchain technology.
3. Blockchain Companies in Augusta
A. MIMIR Blockchain: The company is working on advanced systems that would create harmony between blockchain network and IoT devices that collects tons of data. The project will mainly address the data security concern in IoT devices.
B. TrustStamp: The company offers identity management and verification services powered by blockchain and AI technology. For DeFi companies, TrustStamp developed advanced KYC/AML systems that build trust among investors and regulators.
4. Blockchain Companies in Columbus
A. NurseToken: The company developed a blockchain-based app called SnapNurse. It streamlines the hiring system of nurses nationwide through DLT-based authentication.
5. Blockchain Companies in Macon
A. Tierion: The company works on the Lexicon framework. Tierion helps entities that are linked in ad-based transactions. They facilitate instant payments, transparency, and fraud detection services.
6. Blockchain Companies in Savannah
A. Coinmo, Inc: The company works on digital currency that merchants can use to reward loyal customers at retail shops. This way retailers can save big when they run promotional offers and customer loyalty events.
B. HSBlox: SETU is the prototype distributed ledger technology of HSBlox. A patient-centric healthcare solution has been built on the SETU blockchain platform. The company is also a part of the R3 Corda community.
Blockchain Technology Events in Georgia
To stay updated and grow a human network of quality blockchain professionals, you need to participate in blockchain technology events. Here are some of the past and future blockchain development events in Georgia:
1. Blockchain Technology Events in Athens
Attend the Blockchain Expo (North America) scheduled on September 29-30 2021 (MST). It is a virtual conference, and you can attend from the comfort of home.
2. Blockchain Technology Events in Atlanta
If you consider knowing more about Asset Tracking On Blockchain, you can attend the virtual TAG Blockchain event scheduled on July 22, 2021, 11:30 AM – 1:00 PM (EDT). The event will focus on practical applications of asset tracking on the blockchain.
You can choose to attend the TABConf 2021 – Bitcoin Technology Conference to be held in Georgia World Congress Center, Atlanta, GA 30313. The schedule of the conference is Thu, Nov 4, 2021, 11:30 AM to Sat, Nov 6, 2021, 5:00 PM (EDT).
3. Blockchain Technology Events in Augusta
An upcoming technical event for you is the 6th Annual Cyber Future Summit 2021. Its schedule is Wed, Oct 20, 2021, 1:00 PM to Fri, Oct 22, 2021, 5:30 PM (EDT).
For the tax personals, a must-attend event is Cryptocurrency Taxation: Nuts, Bolts, and Tax Law. The event is scheduled for Wednesday, July 28, 2021: at 2:30 PM (EDT), and Tuesday, August 10, 2021: at 12:00 PM (EDT).
4. Blockchain Technology Events in Columbus
For NFT and crypto token enthusiasts, NFT Vision Hack brings you a virtual event. The virtual conferences will be held from July 3, 2021, to August 30, 2021.
5. Blockchain Technology Events in Macon
To know more about digitized assets, attend the virtual Digital Assets Realised event, and to register now you can go to the Darealised portal. The schedule of the conference is October 20, 2021 – October 21, 2021.
6. Blockchain Technology Events in Savannah
If you are looking to enter the security tokens development venture, then you can definitely attend the Security Tokens Realised virtual event. The schedule of the event is October 18, 2021 – October 22, 2021.
Dappros an Efficient Blockchain Development Company for all your business needs
Dappros is a highly capable company that can cater to all of your needs in transforming your systems with blockchain technology in Georgia, USA. Dappros is actively engaged in multiple blockchain development projects in Georgia and its key strengths are flexibility, scalability, functionality, and cost-effective offerings. Our blockchain-based social media apps and mobile messaging value ads to your custom blockchain development or blockchain integration projects.
Check out our amazing blockchain and Dapp products here https://www.dappros.com/
Dappros is available any time via https://www.dappros.com/contact-us/ to discuss your blockchain and mobile app development needs.