NFT marketplace and Non-fungible tokens (NFTs) are growing immensely popular since the auction of the digital art of Mike Winkelmann for $69.3 million, including fees of the auction. Nowadays, you can mint NFT from anything like artwork, music, photograph, video clip, meme, tweets, virtual space, etc. 
This article will help you understand the mobile app market for NFT making or minting. Furthermore, you'll also be able to find out which mobile operating system between Android and iOS will be a good target for your NFT minting app or marketplace.
What is a Non-fungible Token (NFT)?
NFT tokens are non-interchangeable digital assets. One NFT token is unique to an asset, like artwork or music. NFTs include metadata that is similar to any autographed item, like a baseball signed by Ty Cobb, Ruth, Connie Mack, Honus Wagner, and seven other great baseball players.
A blockchain network like Ethereum provides security to these NFTs. Therefore, the NFT transaction ledger is an immutable source of ownership or authenticity. You can find similarities of NFTs with Bitcoins or other cryptocurrencies.
While cryptocurrencies host money, NFTs host digital or virtual assets like a famous tweet, MP3, JPEG file, domain name, artwork, photograph, baseball card, game item, etc. NFTs are available for bidding in NFT marketplaces. CryptoPunks is the first NFT marketplace that began its journey in 2017 with more than 10,000 collectibles backed by NFTs.
What is an NFT marketplace?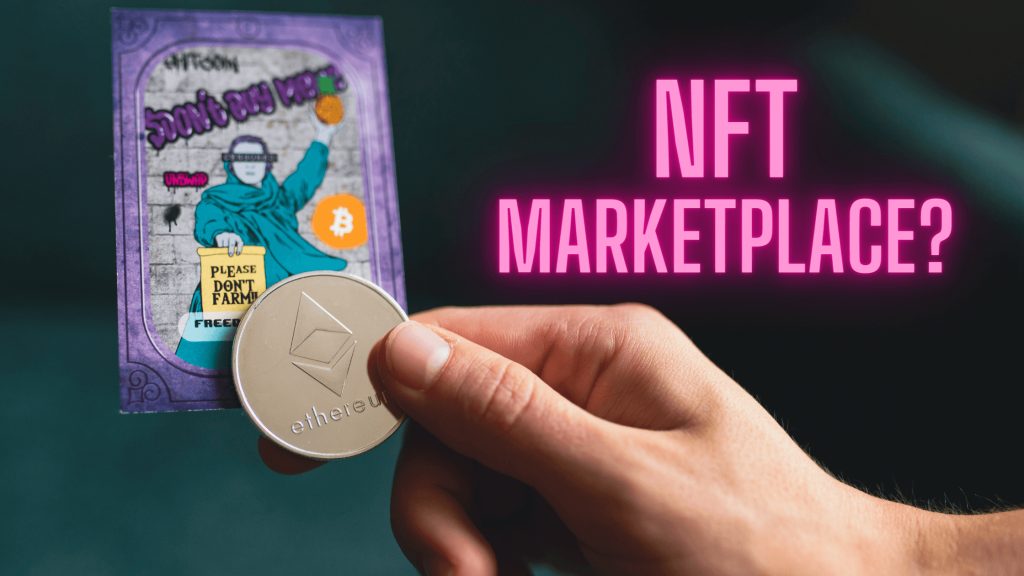 NFT marketplaces are platforms where all the parties related to NFT bidding meet each other. These parties include the artists, NFT makers, and investors. The most famous and trusted NFT marketplaces are the online software-as-a-service (SaaS) platforms.
Rarible, CryptoPunks, OpenSea, SuperRare, AtomicMarket, etc., are some of the well-known NFT marketplaces.
NFT maker or minting platforms have unique attributes and ways of functioning. The following section sheds light on the NFT maker platform in detail:
1. How to select the best NFT maker platform?
When you need to choose the best NFT maker platform for your upcoming digital asset tokenization project, mind the following:
Great security and privacy policies.

Minimum platform traffic or congestion.

Effortless cryptocurrency or token wallets integration.

A long list of NFTs or digital asset tokens with proof of source.

Minimum commission for NFT making and trading.

User-friendly UI and easy navigation throughout the platform.

Faster transaction speed than the competitors.
2. The Functioning of an NFT Marketplace
To explore earning, trading, and business opportunities in NFTs, you need to understand how your NFT marketplace works. Familiarize yourself with the client-side functions of any NFT marketplace:
NFT maker or trader creates a profile on the marketplace that they like.

The user now needs to link or create a crypto wallet to store NFTs or tokenized assets.

The trader or buyer will explore the list of NFTs or other tokens on the marketplace and put a pin on those.

The NFT maker will, however, choose a niche. Then upload their artwork as an NFT for listing on the marketplace.

If the marketplace lists the NFT after moderation, then bidders can bid for NFT, or traders can buy at a fixed price.

When the NFT maker and bidder agree to the transaction, the event closes.

The NFT marketplace will display the transaction. Furthermore, the platform will also transfer the NFT to bidders' crypto wallets and money to the NFT maker's digital wallet.
Mobile app for NFT marketplaces
There are many trusted online platforms for NFT making, trading, and bidding. However, there is a considerable void of mobile apps as an NFT marketplace. Mobile app and blockchain experts around the world believe that the next phase of growth for NFT technology would require numerous NFT marketplaces in mobile apps.
Mobile app-based NFT maker or minting platform could easily remove the technological barriers between the NFT maker or investor. Blockchain startups understand that mobile apps for NFTs are good subjects for business exploration. There are a handful of NFT marketplaces available as mobile apps, and some of the best apps are:
SketchAR app introduced the latest update that allows artists to access NFT marketplaces directly from the app. It will further increase the access of NFTs to those artists who are willing to make a living out of artworks.
The app in the past mostly allowed the artists to convert a still image into illustrations through an AI-based program. However, after the NFT marketplace update, the artist could turn them into NFT makers and sell their artworks for thousands of dollars.
The app will guide the artist towards minting an NFT. The app will also enable the NFT maker to access a tech community about NFTs and quality learning courses. SketchAR is also running a program to reward the best artist with free NFT tokenization and further listing of the NFT on the OpenSea NFT marketplace.
S!NG is a free NFT maker app for artists on iOS devices. It is one of the best safest ways to share your creative work and ideas in a blockchain network. Even before you start sharing your idea or creative artwork, the app will create a Stack for you to store all ownership data in a blockchain network.
As the app developers claim, this app is safest to create, store, manage, and sell NFT tokens. Other features include:
You can easily split ownership with a collaborator.

You can also create a detailed decentralized ledger to store every piece of data generated during the collaborative work.

Idea sharing and contracting become effortless through the app from the comfort of home or office, wherever you are.

High-level data security through Amazon AWS and Ethereum blockchain.
Pantograph app is available in iOS, Android, Chrome OS, and WordPress plug-in. The app helps you to tokenize assets like collectibles, passes, tickets, etc., as NFTs. The Tomochain blockchain will store all of the ownership and trading data in a secure and immutable format.
An NFT maker can send or trade the NFT for free using Pantograph once they have created an NFT in this app. The app is completely P2P and thereby saving you from mediator fees.
NFT making is just like creating drag-and-drop graphics in Panto NFT. All you need to do is insert your asset, fill up a form, add some texts, and your NFT is ready for listing.
The Ethora project from Dappros adds value to NFT minting
Though there are fewer apps that enable the artists to become NFT makers, however, there are almost no apps that enable you to brand it as your own.
Startups, small businesses, and freelance blockchain developers could want to offer personalized apps to consumers. However, developing an NFT marketplace for Android or iOS platforms from scratch could be a challenging task.
Therefore, you need an app that you can customize using your own logo, color palette, branding, images, etc. The Ethora project from Dappros can help you accomplish that goal.
The best features of the Ethora ecosystem are as follows:
It is a decentralized virtual ecosystem for everything blockchain along with social media networking and messaging.

Signing up is effortless, and you can use your SSI profiles like Facebook, Google, or Apple.

The programming codebase of the Ethora project is available on GitHub as an open-source item. The codebase is however connected to the Dappros Platform at the backend.

Businesses, startups, or freelance developers can customize the Ethora app as per their own style and branding.

Consumers can create their unique groups, chats, trade crypto coins, tokenized assets, security tokens, NFTs, etc.

Users can also mint NFTs on this ecosystem.

Each user gets a complementary Ethereum-backed cryptocurrency wallet for storing or trading NFTs.
Apple Vs. Android: Which Platform Should You Consider?
If you are developing an NFT marketplace for mobile devices, then you could also find it challenging to decide which platform to choose from between Android and Apple. However, considering the current trend of the mobile app business, you need to launch your app for both Apple and Android operating systems.
Look at the following Apple vs. Android OS and device usage trends that justify the above approach:
Statcounter's data published till July 2021 says that 45.98% of mobile devices in the USA run on Android OS. Android's competitor, iOS runs on 53.66% of mobile devices, all of them made by Apple.

Another data published by Statcounter of the same period shows that in the UK, 49.22% of mobile devices run on Android OS, and 50.2% of mobile devices use iOS from Apple.

However, the global data from the same source and period tells that 72.18% of devices worldwide run on Android OS whereas Apple iOS's device share is 26.96%.
Fill the void of NFT minting mobile apps
There is a great business opportunity for blockchain startups, developers, and small businesses in the NFT minting and marketplace app development sector. You can jump-start your NFT minting, storing, and trading mobile app development projects by adopting customizable blockchain ecosystems like Ethora.