The primary idea behind cryptocurrencies and crypto-tokens is that these elements will build value and trust through democratization. Blockchain technology also fortifies this idea. However, what if you start seeing that a couple of big players are controlling the Bitcoin or Ethereum blockchain? That's not supporting the decentralization theory of trust generation. 
Therefore, to allow more creators and investors to come to crypto marketplaces, DApps should be easy to develop and publish. Creators with no knowledge of coding or basic knowledge should be able to create DApps. On top of that, the development cost of these apps should be lower than the current market trend. Moreover, there should be less control on top public blockchains and cryptocurrencies from a few tech giants. 
There are DApps that require no-code or low-code for development. Creators can easily mint crypto tokens against their content and list them easily on crypto marketplaces. Some of these apps are also open-source so that anyone can source the code from GitHub and create personalized DApps. This article showcases the best DApps of this kind that are beneficial for you as an investor, developer, or business service provider.  
1. Ethora Engine
It is one of the trending mobile app development platforms or engines for tokenized communities that prefer social media interaction through a secure ecosystem. You may have heard of it in other popular nicknames like "decentralized WeChat" or "Facebook for blockchain." However, the developers at Dappros, who have developed the engine, like to present Ethora as a low-code or no-code platform for crypto wallet or NFT app development. 
It consists of the most advanced tokenization, messaging, and decentralized ledger technologies. The engine is best suited for both Android and iOS apps. The Ethora app supports the ERC-20 standard for cryptocurrencies and the ERC-721 standard for NFT items. Its core program consists of Ethereum blockchain-based decentralized ledger for facilitating immutable transactions. You can quickly view or explore its source code from GitHub.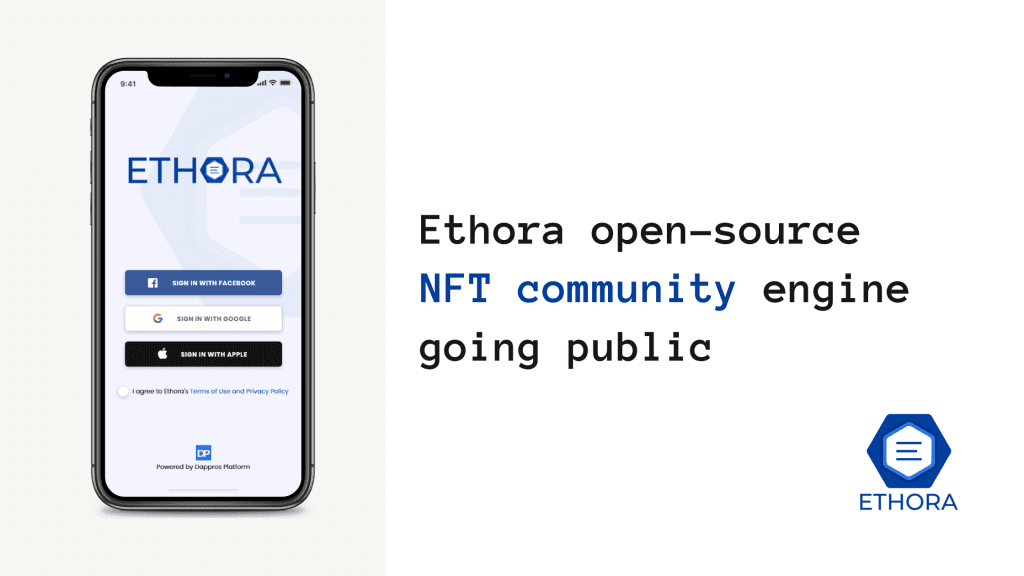 Other salient features of the Ethora app are as follows: 
The Ethora app supports instant and one-click sign-up through social media accounts like Google, Facebook, and Apple. When you sign-up using any of these platforms, you can effortlessly import photographs, names, and emails from these social media sites. 
Ethora comes with state-of-the-art digital security systems to protect your personal data as well as blockchain assets. It boasts a handful of defensive systems to protect you from any hacking incidents. Some of these are Dappros platform-based Login ID, password, email verification, third-party authentication, OTP to the mobile phone, and secondary emails for account recovery.
Ethora app gives you a free crypto wallet to manage all of your digital and crypto assets. You can either configure the wallet to store assets of your blockchain or the global Ethereum blockchain platform. 
Ethora wallet supports crypto coins and collectibles in the form of NFTs. The Ethora UI identifies NFTs as items and cryptocurrencies as coins. Ethora coins are based on the ERC-20 protocol and also the internal currency of this ecosystem.
Ethora ecosystem gives your users access to a secure space to chat and share thoughts. It comes with options like private chat, chat rooms, chatbots, default rooms, members-only rooms, etc. 
You'll find many features in this platform like other social media sites that you're used to. For example, avatars, file sharing, video/voice messages, social likes, ban users, etc. The community members can also use Ethora coins for gifting purposes.  
Ethora is the perfect platform for all of your NFT needs. You can include a lot of features in your DApp like collecting NFT, gifting NFT, purchasing NFT, minting NFT, and NFT transaction history dashboard. 
You can further limit the NFT transactions to business needs only. For example, mint and share NFTs for academic certificates, patient health records, or supply chain items.            
2. Metamask
It is one of the leading crypto wallets for collectors and creators in the blockchain ecosystem. ConsenSys maintains its services which are backed by the Ethereum Foundation. In the beginning, people were only able to use Metamask as a browser extension or add-on. 
Users were mostly using this web browser extension to connect decentralized apps or DApps. Most of these DApps powered the NFT minting, selling, or collecting. ConsenSys then developed a smartphone app for Metamask in 2020. You can find its development code and documentation on its GitHub page.  
You can use Metamask and its code to create your own Ethereum wallet. This app could instantly sync with most of the Etherum-based crypto platforms globally. You can mint crypto coins or NFTs in such an app and also trade them on crypto exchanges. 
Its native mobile app browser allows you to explore various decentralized finance DeFi apps and NFTs. It also helps you to transfer ERC-721 tokens between addresses. Metamask and apps based on it are also compatible with swaps between ERC-20 tokens and Ethereum. 
3. Enjin
This is an ideal crypto wallet that enables you to collect in-game NFTs from Minecraft. Apart from this particular game app, you can also use Enjin to collect and store NFTs from other sources as well as for cryptocurrencies. Furthermore, these DApps supports digital collectibles based on crypto tokens. 
Enjin project's native crypto token is ENJ. You can use this token to trade NFTs and other collectibles on the Enjin marketplace. Enjin also enables you to access other DeFi apps that are Ethereum-based. For this purpose, the app consists of a one-click browser. It's worth mentionable that Enjin has one of the most acclaimed UI for sourcing NFTs.
The app comes with a cryptocurrency exchange feature that enables you to convert cryptocurrencies to different forms. Your wallet security is of maximum importance and hence the app comes with the most stringent security features like auto-lock and biometric sign-in.    
4. Math Wallet
Blockchain industry leaders like Alameda Research and Binance Labs back the Math Wallet. It functions as a gateway to everything blockchain. Users also claim that it is a successful alternative for Metamask. You can find several Math Wallet-based SDKs on GitHub. Those will be the perfect inspiration for you to develop any business or community-based crypto or NFT wallet.  
It comes with a native integration module for more than 65 public blockchains. Therefore, you or users of your crypto wallet app based on Math Wallet will be able to manage assets effortlessly on different blockchain networks. The app is available for smartphones and as a web browser extension or add-on. 
You can also synchronize the app and its data on multiple devices. The app helps you to reduce time in searching for the perfect NFT or DeFi apps as it gives you one-click access to several DApps. You can also swap between cryptocurrencies if you store your crypto tokens in this wallet.   
5. Trust Wallet
With more than 5M users across the world, it is another leading wallet app for NFT creators, collectors, and traders. The app consists of a DApp explorer section from which you can access several DApps as well as art marketplaces. Furthermore, you get one-click access to the best crypto marketplaces like MyCrypto Heroes, OpenSea, and Axie Infinity.
The wallet currently doesn't support NFT transfers between addresses. However, you can effortlessly manage your NFT collections on this app securely. It also offers native integration for several public blockchains like Ethereum Classic, TomoChain, Binance Smart Chain, ThunderToken, Calisto, and GoChain. 
You can use this app as a DeFi or cryptocurrency wallet. Moreover, the app comes with a cryptocurrency exchange option, so that you can transform one crypto token into another one. Currently, you'll find the app only for smartphones. Since Binance backs the app, hence you might see the promotion of Binance products on this platform.   
6. AlphaWallet
It is an NFT wallet that only supports Ethereum based assets. Apart from collecting NFTs, you can also mint NFTs on this app. It directly supports many NFT marketplaces and apps like Dragonereum, ChainZ Arena, CryptoKitties, OpenSea, etc. The best feature of this app is that it supports many in-game crypto assets that are based on the Ethereum blockchain. Therefore, the app quickly became popular among the gaming community. 
The app is currently restricted to smartphone devices. However, if you are looking for open-source tools to develop crypto wallets or NFT apps, you'll find many important tools on its website. Therefore, many businesses, developers, and art creators regularly refer to its website. The mobile app comes with a web3 browser that enables you to look for DeFi apps and DApps.  
Ethora: An Ideal Mobile App Engine for Effortless DApps Development
If you're looking to develop a crypto wallet or NFT app for business, community, or hobby, there are many open-source options that support no-code or low-code development. The above-mentioned apps are reliable and trending ones that you can explore. Furthermore, if you're looking for better flexibility and customization, you can also choose the Ethora DApps development engine for smartphones.