Just saw one of my Linkedin connections Johan Zammit share this article: https://www.coindesk.com/ibm-blockchain-maersk-shipping-struggling/.
It is a great piece by Ian Ellison correctly summarising the challenges around using blockchain in shipping and supply chain industry.
The struggle is real around 'getting all on the same system'.
I've counted at least 21 different initiatives in my report on blockchain in supply chain and logistics 3 months back. Since then I've met more platforms and partnerships working in blockchain supply chain / logistics area. What is common about them is all of them work separately or at least in clusters, building their own platform and sets of tools.
This has reminded me of an old xkcd comic: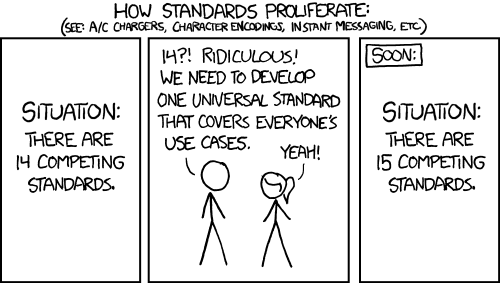 Dappros arguably has contributed to fragmentation releasing the first version of our TracyChain system that allows to put assets / shipments on blockchain with just a few API calls. In our case however we see this not as yet another competing solution, but more of an interface that can integrate with multiple platforms. Its main purpose is to provide easy on-boarding and reduce integration costs.
From Coindesk article it seems one of the major blocks for more carriers to join IBM-Maersk initiative is the notion that there is no equal footing for newly joining partners and the problem of IP belonging to IBM-Maersk.
The most straightforward solution in my opinion is obviously converting this from "IBM-Maersk" into a truly open ecosystem project with:
independent governance board
clearly documented standards system
developer friendly SDKs and code samples
all software and assets available as open-source under Apache 2.0 or MIT license
What's positive however is that IBM / Maersk openly recognise the problem and have already made changes to their messaging and positioning of the initiative.
One way or another the market is going to consolidate as it is unrealistic and unhelpful for 20-30 competing and incompatible solutions to meaningfully compete and develop.
Let's stay tuned for updates from IBM-Maersk, the competing (or compatible) platform solutions and hopefully we'll see industry alliance initiatives such as Blockchain in Transport Alliance work actively to facilitate collaboration and unification of platforms and standards here.