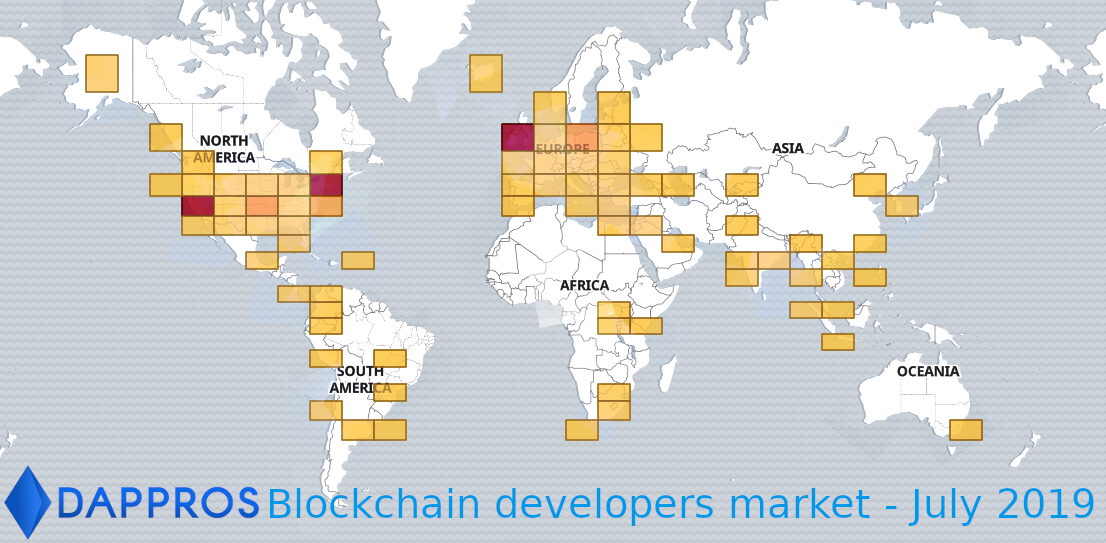 Dappros continues to provide analytical information on blockchain ecosystem and in particular around the topics that are most relevant to our work – Blockchain Developers, as well as DLT Products and Technologies (such as our report on Security Token Platforms).
Here we are initiating a regular overview of blockchain  market statistics in relation to hiring (job openings) by companies that are hiring blockchain developers worldwide. We believe it is an important trend to watch so we are planning if time and resources permit to keep posting this update on regular (ideally monthly) basis.
Note: our data has been sourced from publicly available job boards and we might have missed some data sources which could affect the representativeness of the data. For example, US, UK and Europe job boards are well represented in our sources, but Asian market may be underrepresented at the moment. We're working to extend our sources list and improve our methodology to keep providing you with best quality analytics going forward.
Meanwhile, enjoy our current findings and we hope you find this report useful. As usual, Dappros is available for a chat if you need help or consulting around your blockchain vision.
Top-50 blockchain companies actively hiring in July 2019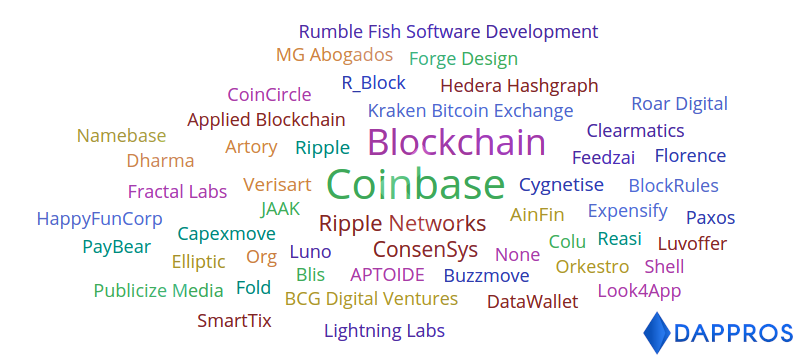 List of the blockchain companies actively hiring
Top-10:
Descriptions are from companies websites.
Coinbase – Coinbase is a secure platform that makes it easy to buy, sell, and store cryptocurrency like Bitcoin, Ethereum, and more. Based in the USA, Coinbase is available in over 30 countries worldwide.
Blockchain – Blockchain is the world's most trusted all-in-one crypto company. We're connecting the world to the future of finance through our suite of products including the leading crypto wallet, bitcoin explorer, and market information.
ConsenSys – ConsenSys is solving real-world problems with Ethereum blockchain solutions for organizations of all sizes, from the local community to the global enterprise. We're building Web 3.
Verisart – Verisart applies blockchain technology to combine transparency, anonymity and security to protect your records of creation and ownership. Verisart is building evidentiary infrastructure for artworks and collectibles that is verifiable by anyone.
Ripple – Ripple connects banks, payment providers, digital asset exchanges and corporates via RippleNet to provide one frictionless experience to send money globally.
Cygnetise – Cygnetise is the blockchain application that makes managing signatory lists and bank mandates efficient and easy, whilst mitigating the risk of signatory fraud for organisations.
AinFin – AinFin enables both the banked and unbanked to participate in a truly distributed banking service through a state of the art, open digital financial transaction services platform branded 'Swifin'.
Luno – Luno is secure When we say your money is safe, we really mean it. We've built some of the world's most sophisticated Bitcoin security systems and have never been compromised.
Kraken Bitcoin Exchange – Kraken is more than just a Bitcoin trading platform. Come see why our cryptocurrency exchange is the best place to buy, sell, trade and learn about crypto.
JAAK – JAAK, a London-based tech company using blockchain technology to disrupt the media and entertainment industry.
Other blockchain companies actively hiring in July 2019:
Reasi
R_Block
Orkestro
Org
Hedera Hashgraph
Fractal Labs
Feedzai
Expensify
Colu
Capexmove
Buzzmove
BCG Digital Ventures
Artory
Applied Blockchain
APTOIDE
ThoughtWorks
The Workshop
SmartTix
Shell
Rumble Fish Software Development
Roar Digital
Publicize Media
PayBear
Paxos
Namebase
MG Abogados
Luvoffer
Look4App
Lightning Labs
HappyFunCorp
Forge Design
Fold
Florence
Elliptic
Dharma
DataWallet
CoinCircle
Clearmatics
BlockRules
Blis
Top cities hiring blockchain developers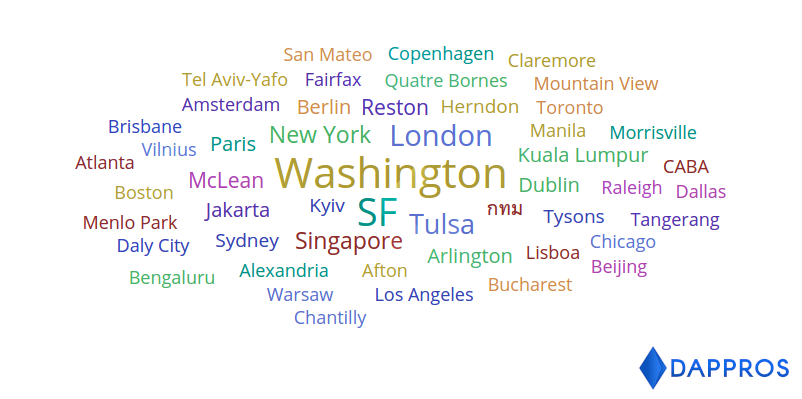 List of cities actively hiring blockchain developers, July 2019
Washington
Singapore
London
San Francisco
New York
Jakarta
Berlin
Kuala Lumpur
Arlington
Boston
San Francisco
Afton
Reston
Manila
Tulsa
Paris
McLean
Bengaluru
Alexandria
Warsaw
Tysons
Mountain View
Amsterdam
กทม
Tel Aviv-Yafo
Blockchain companies actively hiring by city
---
Dappros would like to thank AIWorkers for their help in preparation of the material.