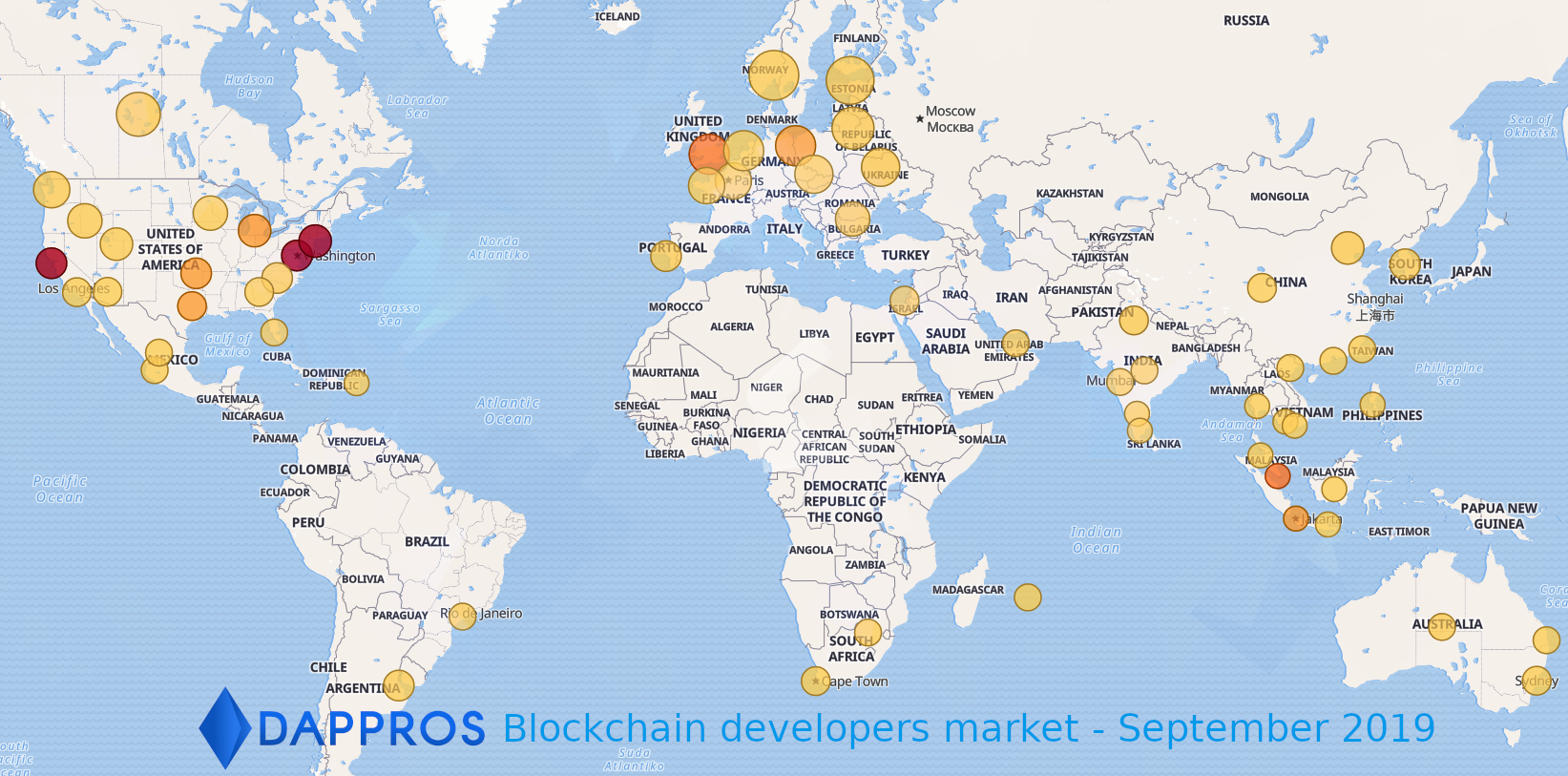 Note: our data has been sourced from publicly available job boards and we might have missed some data sources which could affect the representativeness of the data. We're working to extend our sources list and improve our methodology to keep providing you with the best quality analytics going forward.
Meanwhile, enjoy our current findings and we hope you find this report useful. As usual, Dappros is available for a chat if you need help or consulting around your blockchain vision. You may also check our previous historical reports using the links below:
Top-50 blockchain companies actively hiring in September 2019

List of the blockchain companies actively hiring
Top-10 blockchain companies actively hiring in September 2019:
Descriptions are from companies websites.
Coinbase – Coinbase is a secure platform that makes it easy to buy, sell, and store cryptocurrency like Bitcoin, Ethereum, and more. Based in the USA, Coinbase is available in over 30 countries worldwide.
Gemini – Gemini is a licensed digital asset exchange and custodian built for both individuals and institutions.
ConsenSys – ConsenSys is solving real-world problems with Ethereum blockchain solutions for organizations of all sizes, from the local community to the global enterprise. We're building Web 3.
Blockchain – Blockchain is the world's most trusted all-in-one crypto company. We're connecting the world to the future of finance through our suite of products including the leading crypto wallet, bitcoin explorer, and market information.

Ripple – Ripple connects banks, payment providers, digital asset exchanges and corporates via RippleNet to provide one frictionless experience to send money globally.
Deloitte – Deloitte is helping companies worldwide achieve their goals related to blockchain implementation. Our ecosystem for education, ideation, strategy, prototyping, and development helps clients harness the opportunities and capabilities that blockchain technology has to offer.
IBM – IBM Blockchain Platform: the next generation of blockchain for business. Proven, flexible and built to run on any cloud. Deploy the leading Hyperledger Fabric platform in the environment that's right for your enterprise.
Oracle – Oracle offers an easier way to adopt blockchain and transform your enterprise with the industry's most comprehensive and enterprise-grade blockchain platform. Oracle Blockchain Platform securely extends your business processes and applications while enabling you to process business transactions much faster.
JPMorgan – The Blockchain Center of Excellence (BCOE) leads efforts for applications of distributed ledger technology (DLT) within J.P. Morgan.
KPMG – KPMG Blockchain Services professionals are dedicated to create relevant, scalable solutions that drive value for your organization.
Other blockchain companies actively hiring in September 2019:
PWC
Facebook
Mastercard
Ernst & Young
OpenCrowd, Inc.
Neufund
Accenture
Gnosis Service GmbH
Rupiah Token Indonesia
Coinvestasi
ELEKS
TradeBlock
APTOIDE
Axuall
BOTLabs GmbH
BlockchainWorks
COINDAILY
Coinone Indonesia
Lisk
MG Abogados
OpenLaw, a ConsenSys Spoke
Paxful
Robin Hood Foundation
Solana
Visa
0x
102 ICF Incorporated, LLC
3i Infotech, Inc
AION Network
AMAZON
Standard Token Protocol (STP) Network
APN Consulting
Altria
American Express
Access Sciences
Permission.io
Akamai Technologies, Inc
Alax
ApTask
Artory
Top cities hiring blockchain developers

List of cities actively hiring blockchain developers, September 2019
New York (+4 vs August)
San Francisco

(+1)

Berlin

(+4)

Jakarta

(+2)

Tulsa

(+9)

London

(-2)

Dublin

(new in top-25)

Paris

(+9)

Vilnius

(new in top-25)

Raleigh

(new in top-25)

Portland

(new in top-25)

Singapore

(-10)

Waterloo

(new in top-25)

Austin

(new in top-25)

Cleveland

(new in top-25)

Frankfurt

(new in top-25)

Boston

(-7)

Dallas

(new in top-25)

Foster City

(new in top-25)

Kyiv

(new in top-25)

Lisboa

(new in top-25)

Menlo Park

(new in top-25)

Mumbai
Munich

(new in top-25)

Toronto

(-9)
Blockchain companies actively hiring by city
---
Dappros would like to thank AI Workers for their help in the preparation of material.