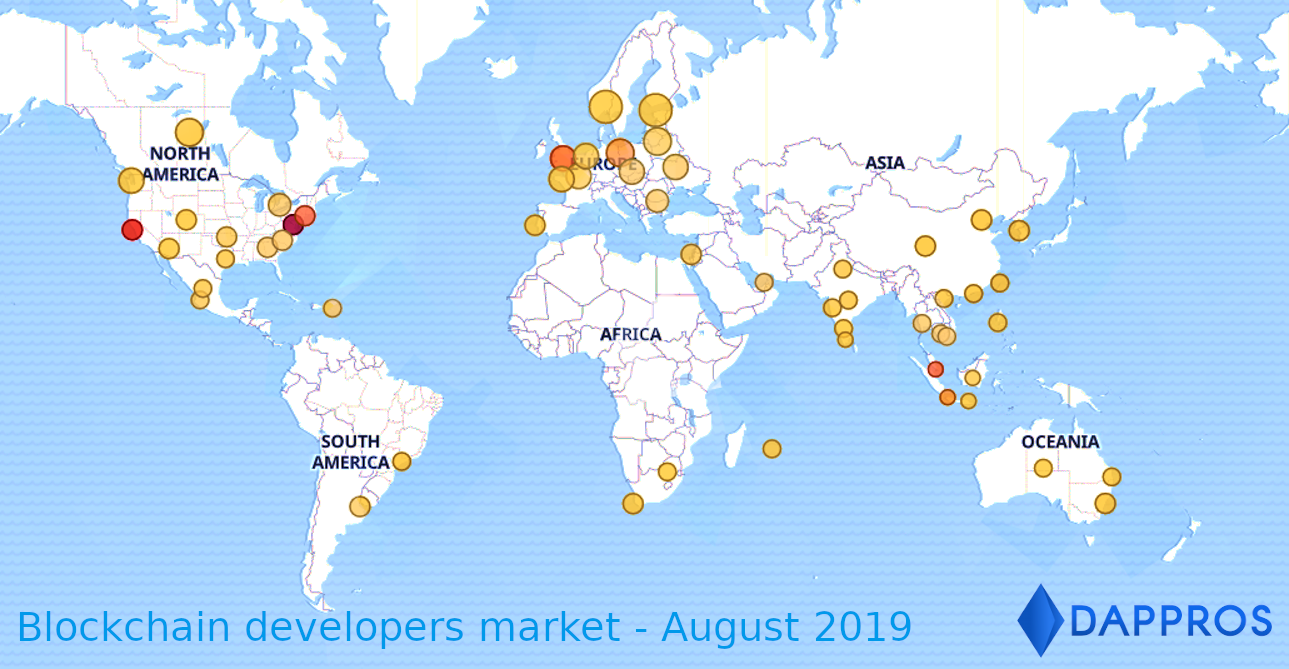 Note: our data has been sourced from publicly available job boards and we might have missed some data sources which could affect the representativeness of the data. We're working to extend our sources list and improve our methodology to keep providing you with the best quality analytics going forward.
Meanwhile, enjoy our current findings and we hope you find this report useful. As usual, Dappros is available for a chat if you need help or consulting around your blockchain vision. You may also check our previous historical reports using the links below:
Top-50 blockchain companies actively hiring in August 2019
List of the blockchain companies actively hiring
Top-10:
Descriptions are from companies websites.
Coinbase – Coinbase is a secure platform that makes it easy to buy, sell, and store cryptocurrency like Bitcoin, Ethereum, and more. Based in the USA, Coinbase is available in over 30 countries worldwide.

(New in top-10)

Gemini – Gemini is a licensed digital asset exchange and custodian built for both individuals and institutions.
ConsenSys – ConsenSys is solving real-world problems with Ethereum blockchain solutions for organizations of all sizes, from the local community to the global enterprise. We're building Web 3.
Blockchain – Blockchain is the world's most trusted all-in-one crypto company. We're connecting the world to the future of finance through our suite of products including the leading crypto wallet, bitcoin explorer, and market information.
(New in top-10) OpenCrowd – Blockchain Consulting and Development Firm creating Custom Blockchain Business Solutions for Global Clients and Early Startups.

Ripple – Ripple connects banks, payment providers, digital asset exchanges and corporates via RippleNet to provide one frictionless experience to send money globally.
(New in top-10) Aptoide – Aptoide is an alternative marketplace for mobile applications which runs on the Android operating system.

(New in top-10)

 Rondo – The Rondo platform will bridge the divide that exists today, by reducing friction for artists earning and using crypto in real world.
JAAK – JAAK, a London-based tech company using blockchain technology to disrupt the media and entertainment industry.

(New in top-10)

Decentralised Vision – Decentralised Vision utilizes the emerging technology of the blockchain to allow both merchants and their customers to participate in decentralized e-commerce and directly interact with each other.
Other blockchain companies actively hiring in August 2019:
Visa
TradeBlock
Thrive Agrobiotics
ThoughtWorks
The Arcadia Group
Robin Hood Foundation
OpenLaw
O(1) Labs
Maxfield Search
Luno
Look4App
Lisk
ICOB
Gnosis Service GmbH
Fractal Labs
Decrypt
Colu
Coinvestasi
CREDITS
COINDAILY
Axuall
Cointelegraph
CognitiveScale
Clearmatics
Blockstream
BlockchainWorks
BlockWorks Group
Blis
Blacklane
Bitocto
Barcelona Blockchain Week
Bank of hodlers
BOTLabs GmbH
BEVHAUS
Axiom Zen
Applied Blockchain
AmaZix
Alax
AMAZON
AION Network
Top cities hiring blockchain developers

List of cities actively hiring blockchain developers, August 2019
Washington
Singapore
San Francisco (+1 vs July)
London

(-1)

New York
Jakarta
Berlin
Kuala Lumpur
Arlington
Boston
Afton

(+1)

Reston

(+1)

Bengaluru

(+5)

Tulsa

(+1)

Manila

(-1)

Toronto

(new in top-25)

Paris

(-1)

McLean

(-1)

Alexandria
กทม

(+4)

Warsaw

(-1)

Tysons

(-1)

Mumbai

(new in top-25)

Mountain View

(-2)

Amsterdam

(-2)
Blockchain companies actively hiring by city
---
Dappros would like to thank AI Workers for their help in the preparation of material.