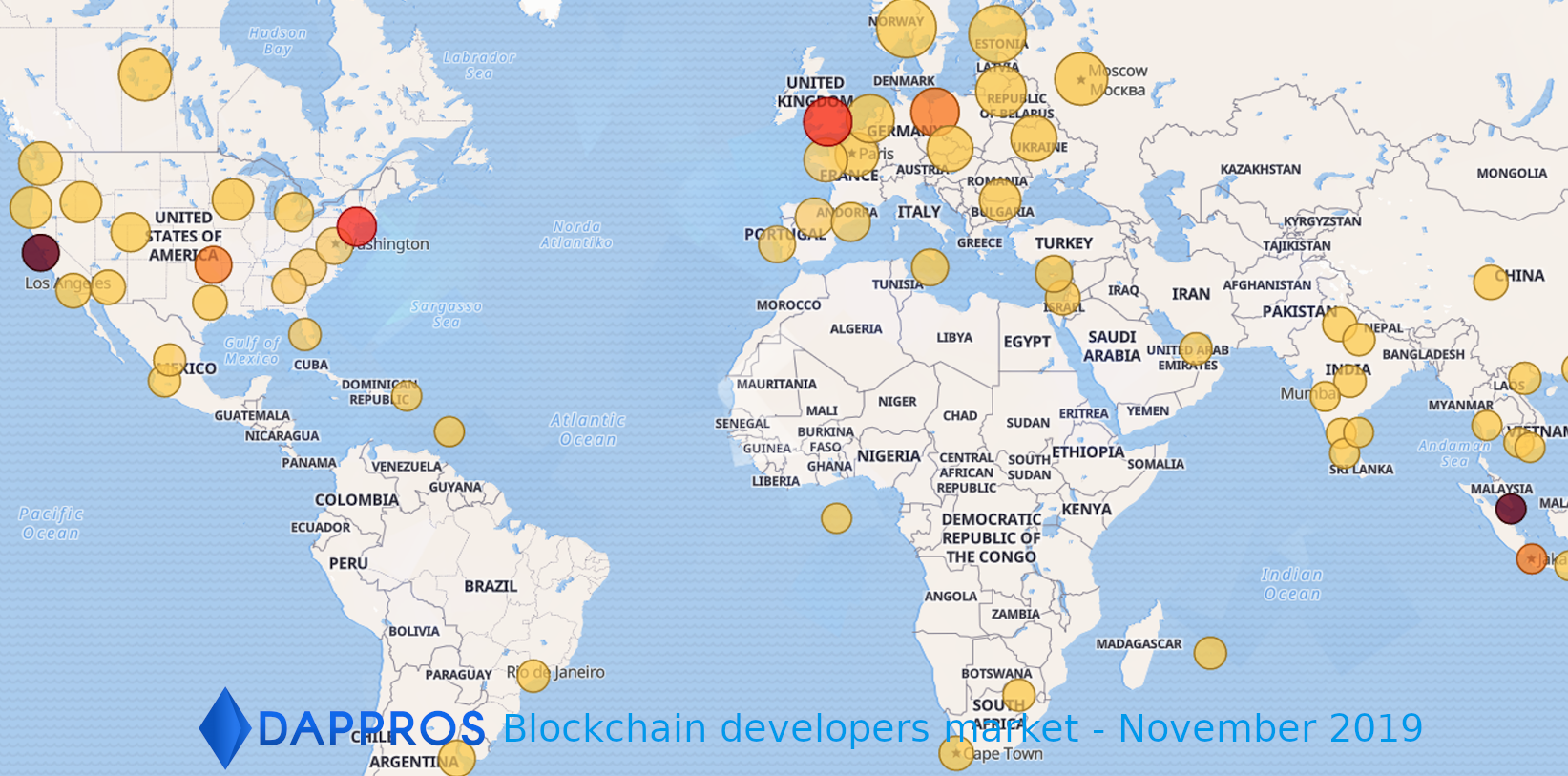 Note: our data has been sourced from publicly available job boards and we might have missed some data sources which could affect the representativeness of the data. We're working to extend our sources list and improve our methodology to keep providing you with the best quality analytics going forward.
Meanwhile, enjoy our current findings and we hope you find this report useful. As usual, Dappros is available for a chat if you need help or consulting around your blockchain vision. You may also check our previous historical reports using the links below:
Top-50 blockchain companies actively hiring in November 2019Top-10 blockchain companies actively hiring in November 2019
JPMorgan Chase & Co. is an American multinational investment bank and financial services holding company.
The International Business Machines (IBM) Blockchain Platform – the next generation of blockchain for business. Proven, flexible and built to run on any cloud. Deploy the leading Hyperledger Fabric platform in the environment that's right for your enterprise.
Skyrocket Ventures is a leading recruiting firm for high growth technology companies in the San Francisco Bay Area that range from industry leaders to top-tier startups.
Facebook is an American online social media and social networking service based in Menlo Park, California
VMware provides cloud computing and virtualization software and services.
Amazon.com, Inc., is an American multinational technology company based in Seattle that focuses on e-commerce, cloud computing, digital streaming, and artificial intelligence.
Coinbase is a secure platform that makes it easy to buy, sell, and store cryptocurrency like Bitcoin, Ethereum, and more. Based in the USA, Coinbase is available in over 30 countries worldwide.
Huxley Banking & Financial Services delivers expert permanent and contract recruitment services across the US and all major financial hubs globally. Our efficient structure consists of delivery teams split by vertical market specialization and client specific Account Managers that ensure compliance.
The Verizon Enterprise Solutions (Verizon) blockchain platform services focused on privacy, portability, and scalability. With Verizon's blockchain platform that data stays within customer premises.
From traceable supply chains to permanent identity for refugees, Accenture blockchain is pioneering transparent and secure business processes across the globe.
---
Other blockchain companies hiring in November 2019
Intelletec
Blink Technology Partners
Block.one
Kiva
Mobiskill
Mythical Games
NP Group
Source Coders
0x
Aden Staff
APIFINY
Blockchain Talent Lab
Blockshine Singapore
CertiK
ConsenSys
Defi Custody
Deloitte
FILD
Fortech Energy
HCM Capital
Magic Leap
Propine
R3
Salesforce
Splunk
TAXA
University of Advancing Technology
Whoohoo Poland
Johns Hopkins Applied Physics Laboratory
ACCIÓN LABORAL
Airbus
Akamai Technologies
Ambition
Bivium Group
Clearmatics
Curl Analytics
Cypher
Deutsche Börse
Endure Technology Solutions
Top GEO locations hiring blockchain developers

List of GEO locations hiring blockchain developers, November 2019
San Francisco, CA, US
Menlo Park, CA
New York City, NY, US
London, UK
Seattle, WA, US
Singapore
Jersey City, NJ
Palo Alto, CA, US
Columbus, OH, US
Lewisville, TX, US
Plano, TX, US
Brooklyn, NY
Hannover, DE
Amsterdam Area, Netherlands
Berlin Area, Germany
Los Angeles, CA, US
Paris, FR
Washington, D.C., DC, US
Bengaluru, Karnataka, India
Hong Kong
Austin, TX
Blacksburg, VA, US
Indonesia Jakarta
Irvine, CA, US
Madrid Area, Spain
Blockchain companies actively hiring by GEO location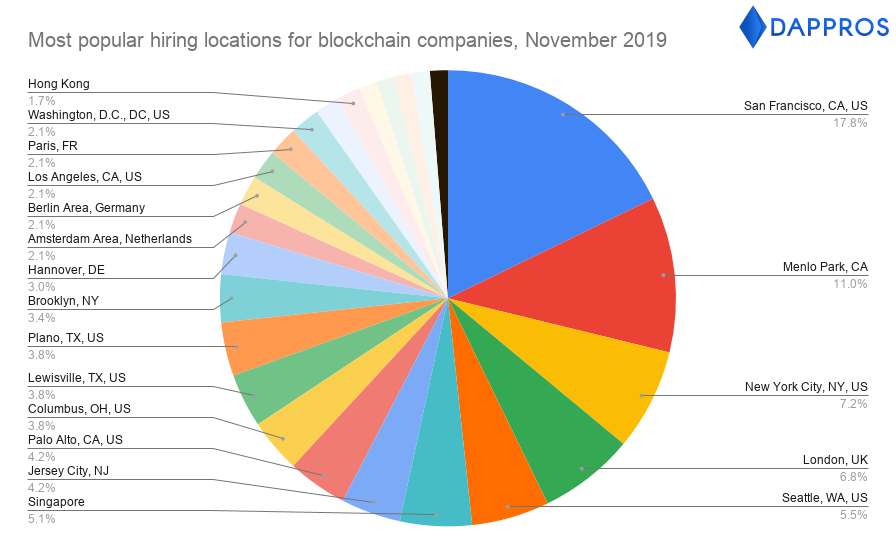 ---
Dappros would like to thank AI Workers for their help in the preparation of material.